Schedule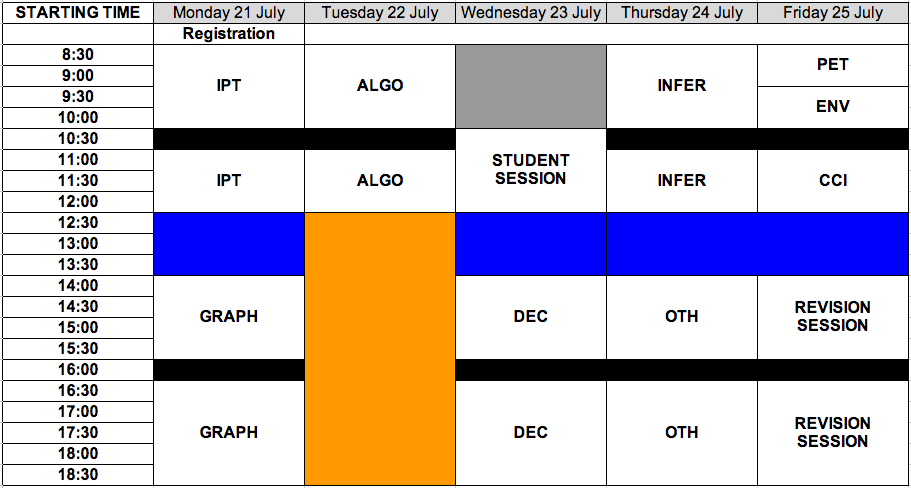 Program
The following speakers have already confirmed. The courses' and talks' titles are tentative, but do reflect the content. Note that a student session dedicated to the presentation of the students work and a revision session are proposed this year in the program. The program will be updated as details become available.
Theory
Applications
Climate Change Impact (CCI)
Student Session
During this session, we propose to the students to present their work, related or not to Imprecise Probabilities, in a brief and synthetic way. Students can present their work by means of a poster (even made for a previous occasion), with their laptop/tablet in order to give a computer presentation of the programs or data they work with, or a 5 minutes presentation (not more) or anything else. Two sessions are expected: one will be a poster-like session in a hall and one will be a presentation-like if some students propose oral presentations or another poster-like session otherwise.
The participation of the students to these sessions will not prevent them for being accepted to participate to the school. But, we strongly encourage them to share their work even if at a starting point (goals and expectations can be interesting points to present). We aim at favoring exchanges and potential collaborations births between students and/or professors.
Revision Session
During this session, we propose to return to topics that students found difficult or not clear. We plan to gather these topics as the School goes on. A "revision box" where students can pose anonymous questions will be at disposal in the classroom. Obviously, this is aimed at being a discussion session ending the school and preparing the final friday bar session (not mentioned in the program).